Publications
THERMOS Training & Capacity Building Presentations
Webinar 1: Energy mapping and modelling with THERMOS
Webinar 2: Embedding THERMOS in your city
Webinar 3: Optimising thermal planning with THERMOS
Watch webinar recordings on our THERMOS YouTube channel here.
THERMOS Baseline Replication Assessment Report
Download the THERMOS Baseline Replication Assessment Report, mapping out and assessing the national and local framework conditions for a successful adoption of the THERMOS software model in THERMOS cities.
Full report in pdf here. For chapters on individual cities visit our city profiles here.
THERMOS Train the Trainer & Capacity Building Modules
The THERMOS training and capacity building modules available for download are designed not only to enhance knowledge on district heating, thermal energy, financing and stakeholder involvement but also to enable experts to train others on these topics.
The tools are also available in the following languages: ES LV RO PT PL DE DK
Discover the tools below:
For more on THERMOS training and capacity building and how to become a THERMOS trainer or Ambassador contact info@thermos-project.eu.
THERMOS Pitch Book
Better Planning for better results with THERMOS - Advance your thermal district energy planning and support the decarbonisation of heating and cooling in towns and cities across Europe with the THERMOS pitch book.
The THERMOS pitch is supporting THERMOS Ambassadors, Partners, Trainers, Users and other stakeholders in presenting the THERMOS tool and highlighting the importance of heating and cooling for the local (and European) energy transition to a broader audience. Supported by facts and figures on air quality, energy efficiency and state-of-the-art energy planning with the THERMOS software, the pitch is compiles all the arguments needed to adopt THERMOS for optimising district energy in your city.
Download the presentation in EN, DA, DE, ES, LV, RO, PL, PT, CAT.
* If you want to use this presentation, reference and credit the THERMOS H2020 project and indicate any changes you made to the original text or pictures.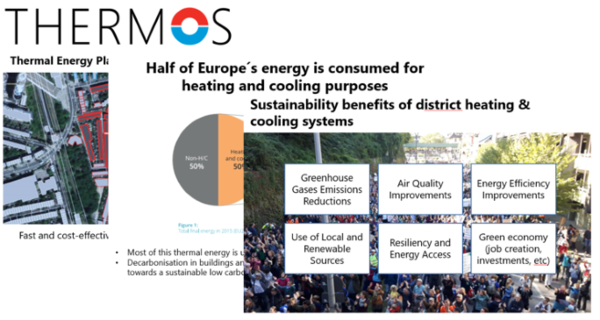 THERMOS Innovation Catalogue
Download the full Innovation Catalogue with all 14 case studies as a pdf in EN here.
Skim through a teaser with a selection of cases below.
Academic publications
X. Zhang, G. Strbac, N. Shah, F. Teng and D. Pudjianto, "Whole-System Assessment of the Benefits of Integrated Electricity and Heat System," in IEEE Transactions on Smart Grid, vol. 10, no. 1, pp. 1132-1145, Jan. 2019.
K. Kuriyan and N. Shah, "A combined spatial and technological model for the planning of
district energy systems," in International Journal of Sustainable Energy Planning and Management, vol. 21, pp.111-131, 2019.
THERMOS Leaflet (pdf) - Leaflet small


Also available in the following languages: DA ES LV RO PL PT DE
Sign up to our Newsletter to be the first to be informed when we publish!