Events
Join us to talk energy, heating and cooling, smart solutions and much more, at some of these key events:
Save the Date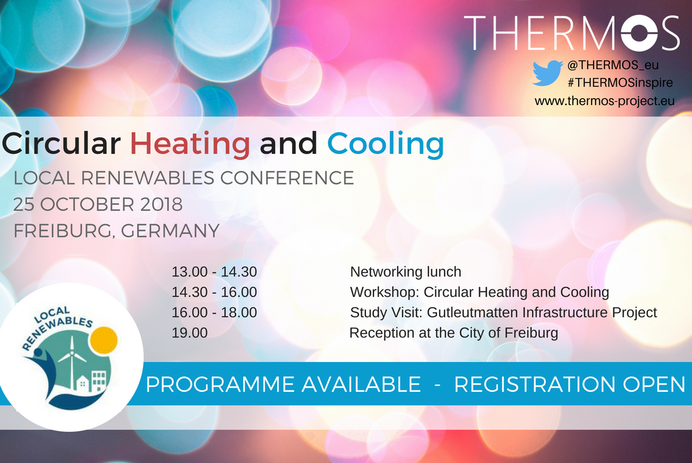 Take part in the THERMOS Circular Heating and Cooling Session on 25 October 2018.
The workshop forms part of the Local Renewables conference co-organised by the City of Freiburg, the City of Basel, and ICLEI Europe on 24 - 26 October 2018 taking place in Freiburg (Germany) and Basel (Switzerland).
Within the larger framework of transforming from a linear to a circular economy and how cities and regions can take full advantage of renewable resource, THERMOS will discuss practical steps towards a circular energy generation and consumption model in cities by discussing flagship initiatives of the cities of Islington and Granollers.
Register now for the conference and the THERMOS session.
For more information, download the preliminary conference programme or read it on the conference website - www.local-renewables-conference.org.
Stay tuned for further details on the THERMOS workshop or contact us at: info@thermos-project.eu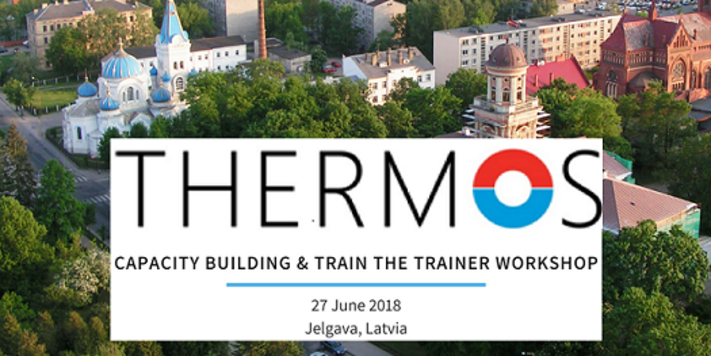 The 2nd THERMOS Capacity Building and Train-the-Trainer Workshop took place on 27 June 2018 in Jelgava!
Participants not only took part in an exclusive training but were also be invited to join us for an on-site visit of the Jelgava electrical and thermal power plant connected to the cities district heating network and the first large-scale biomass CHP unit in Latvia!
The session has been wrapped up with a first demonstration of an alpha version of the THERMOS software for optimised thermal energy planning.
You can find the programme here.
For further questions or interest in the THERMOS Training programmes please visit our Training section or contact info@thermos-project.eu.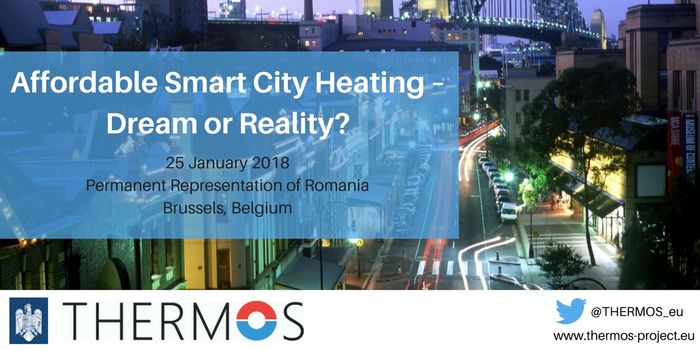 This event gathered cities and organisations aiming to make integrated heating and cooling systems part of the backbone of a local, open and affordable energy transition, using state-of-the-art planning tools, solutions and insights such as the THERMOS tool.
Speakers included (click to download the presentation):
With special insights from:
Andreea Strachinescu, DG Energy, European Commission
Julia Egenolf, City of Cologne, Germany
Mika Hakosalo, City of Stockholm, Sweden
Jana Koleva, Municipality of Burgas, Bulgaria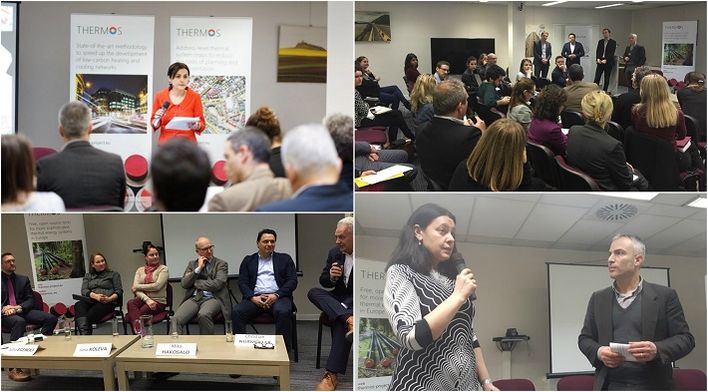 Fostering renewable heat in the UNECE region
9:30 - 18:00, November 13 2017
Federal Ministry for the Environment, Robert-Schuman-Platz 3, Bonn, Germany
A workshops, held alongside of the COP23 climate conference in Bonn, seeks to establish a venue for the exchange of information on Renewable Energy within the region. Collaboratively, decision makers from governments, market regulators and businesses being active in selected UNECE countries shall identify both challenges and barriers to the deployment of renewable heat sources and possible solutions for addressing these.
Most notably, the one-day event feature two modules that are meant to create room for exchange: In a first step, participants will have the opportunity to present, discuss and critically assess the current market situation for renewable heat in their countries. Moreover, a multi-peer discussion process shall enable the representatives to address difficulties, share experience and outline adequate solutions with regards to the development of renewable heat markets.

The event is organized by the German Energy Agency (dena) in close cooperation with the UNECE Group of Experts on Renewable Energy (GERE) and funded by the German Federal Ministry for Economic Affairs and Energy.

Please register until 6 November 2017 via dena's website.

Meet your match: The thermal resource map, model and optimization system made for you!
9:00 - 12:30, June 22 2017
EUSEW 2017 Networking Village 2, Residence Palace, Brussels
Check us out from 9:00 - 12:30, June 22nd at EUSEW 2017 Networking Village 2, Residence Palace, Brussels! Thermal optimization is a burning issue, with Europe wasting as much heat as the entire building stock requires. Out now are programs to mitigate this waste. For our part in the European Sustainable Energy Week 2017, we would like to show local authorities, public and private utilities, energy agencies and energy service providers new ways of implementing sustainable thermal energy system planning.

Meet us in person to find out more about how THERMOS amplifies and accelerates the development of new, low-carbon heating and cool-ing systems across Europe in a cost-effective and efficient way. Through free, open-source address-level energy system maps, THERMOS will enable you to faster upgrade, refurbish and expand your existing networks. Additionally, the Heat Roadmap Europe complements THERMOS' bottom-up mapping and modelling approach with its national-level Pan-European Thermal Atlas 4, a service analysing the heating and energy systems of the 14 largest users of heat in the EU, covering 85-90% of all heating and cooling demand in Europe.

In addition to in-depth explanations and live demonstration of our tools, we are offering opportunities to inspire interesting exchange about thermal energy-saving:
Networking board: "I offer" and "I need" on thermal optimisation
Business-card Bowl: Participants can drop their business card in and pick out (and take a picture of) others' who might be of relevance.
Personal exchange: Open discussion and Q&A
Training: Sign up for our capacity-building and train the trainer programme
Make an appointment and follow what we are up to: THERMOS newsletter or via Twitter @THERMOS_eu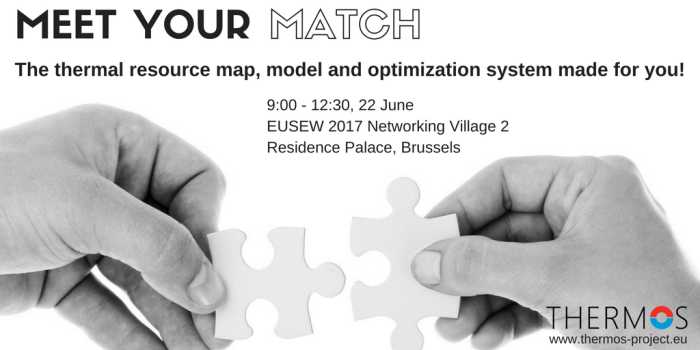 EU Sustainable Energy Week (EUSEW)
19-25 June, 2017
Brussels, Belgium
Launched in 2006 as an initiative of the European Commission, EUSEW is a month-long annual series of activities across Europe, promoting secure, clean and efficient energy, and connecting policymakers, stakeholders and citizens to achieve climate and energy goals for the Energy Union. Stakeholders have the opportunity to participate in EUSEW 2016 by attending the High Level Policy Conference, by submitting their project to the Sustainable Energy Awards competition, or by organising an Energy Day. For further information, please visit the EUSEW website.
If your work supports an economy built on clean, secure, efficient energy, this event is for you. The EU Sustainable Energy Week is an opportunity to meet stakeholders promoting energy efficiency and renewable energies, learn about successful policies and inspire innovation to meet the EU's energy and climate goals.
The EU Sustainable Energy Week (EUSEW) is organised by the Executive Agency for Small and Medium-sized Enterprises (EASME), in close cooperation with the European Commission's Directorate-General for Energy.