THERMOS Train-the-Trainer Certification Programme
Are you interested in supporting better heating and cooling planning and in implementing better projects and local sustainable energy and climate action plans in accordance with climate policy trends?
Work with and learn from THERMOS to enable a faster upgrade, refurbishment and the expansion of existing infrastructure and to accelerate the development of new low carbon heating and cooling systems across Europe.
What is the Train-the-Trainers (TtT) Certification Programme?
The TtT programme aims to train local and regional energy authorities, energy agencies or representatives from public or private utilities, as well as other stakeholders managing local energy networks in using and applying the THERMOS software and to train them to train others.
Participants will be awarded a testifying certificate stating the competences and knowledge acquired, after a successful completion of an online webinar based training course and the development of a practical exercise using THERMOS.
Mark you calendars for the next edition starting in summer/autumn 2019.
Why become a THERMOS Trainer?
THERMOS TtT will not only provide participants with up-to-date knowledge about innovation and best practices in heating and cooling from THERMOS partner city practitioners but will enable participants to:
Understand and explain the importance of district energy planning, with emphasis on thermal energy networks planning.
Use and apply the THERMOS software and its features, including energy system mapping and modelling optimization methods
Apprehend how to integrate results of the THERMOS software in urban planning processes
Identify key district energy planning and financing methods
Improve local energy and climate action planning
How to obtain the THERMOS certificate
At least 75% participation rate in the 7 THERMOS specific webinars (covering topics from thermal energy demand in Europe to heating and cooling markets, thermal energy planning and how to embed THERMOS in your city)
Perform a THERMOS practical exercise (case study analysis).
Optional: Participate in the Final TtT Workshop (travel support available for selected participants)
Online Training Webinars
The first round of Training Webinars took place from October to November 2018. Download the agenda here. The second round will start in summer/fall 2019.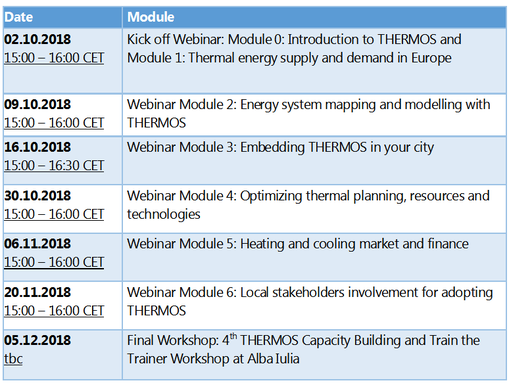 Frequently asked Questions
Do I have to pay to participate in the programme:
No, participation in the TtT programme is free of charge and is completely covered by the THERMOS project. However, travelling costs for the final Workshop will have to be covered by the participant. Some scholarships will be awarded based on participants' multiplication roles.
When will the next series of TtT webinars start?
The next edition will start in summer/fall 2019.
How much time will it take me to successfully finish the course?
16 hours in total over a period of 3 months.
Is it necessary to participate in the webinar when they are on air or can I watch the webinars at a later point of time?
We encourage all participants to participate actively in the webinars and to engage in the discussions. Recordings of the webinars will however be available for participants.
What is the THERMOS software?
An open-source application that will support better district thermal energy planning for local stakeholders faced with the following scenarios:
Development of new district energy planning including demand based expansion and waste heat recovery options
Network modernisation, upgrades and refurbishment
Industrial cogeneration and heat network development
Any questions left unanswered? Learn more by contacting info@thermos-project.eu.